Fill Out This Form If You Would Like A Lineart Image Of Your Cat Or Someone Elses..
ALL Of These Questions Must Be Filled Out.
LineArt Type: (Look At The Examples Below And Say Image 8 Or Something If You Want The 8th Image Below, Or Just Say The Posistion The Cat Is In.)
Cat(s) Rank:
Description Of The Cat(s): (Detailed Eye Color, Detailed Pelt Color, Markings, Scars, Build.)
Text Type: (Arial, Times New Roman)
Text Color(s): (EXAMPLE: Red E, Purple X, Green A, Pink M.)
Text: (EXAMPLE: Top Right Corner Of Image, Please Put Text: Example there.)
Here Are Some Examples:
(Male Cat LineArt, Looks Good For Male Deputies, Works Well For Male Warriors && Apprentices Aswell.)

(I Am Rarely Able To Do BackGrounds Like This One Unless They Are Easy, Like This One, This Is A Female Cat Carrying A Bird, Also, If You Will, Write In The Color For The Bird So It Matches Your Cat, If You Do Not While Wanting Your Cat As This Picture, I Will Choose Which One Looks Best At Random)

(Female Tabby Lying Down, You May Request A Color For A BackGround On Any One Of The LineArt's.)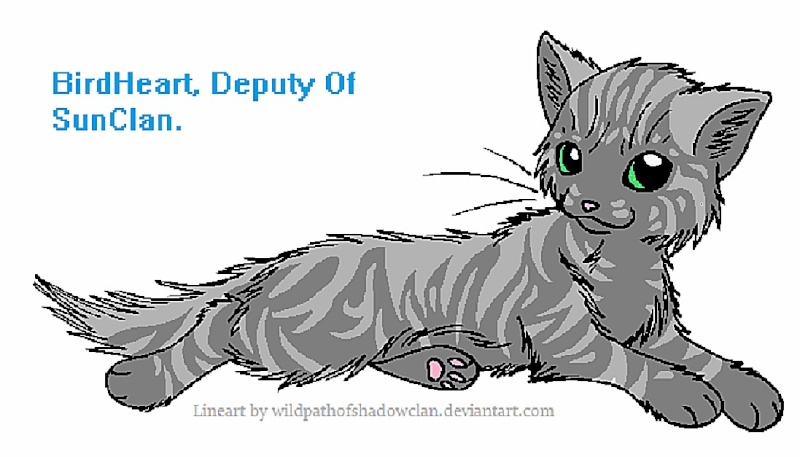 (Kit Jumping Around, Can Also Work Very Well For Female Warriors, And Apprentices, But It Works Best For Kits In My Prospective.)
(Regular Female Cat Lying Down, Not A Tabby, You May Also Choose A BackGround For This One But If You Do Not Add It In There, I Will Use The Default Background Color, White.)
(Pretty Female She-Cat Looking Curiously Right.)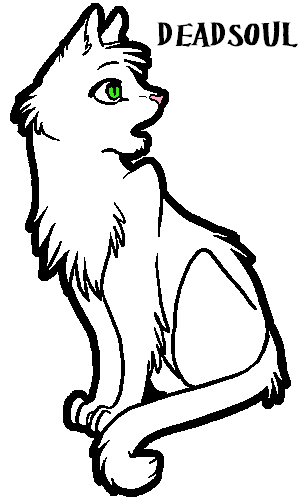 (Busy Medicine Cat Stand Pose With Herbs In Mouth, Only For Medicine Cats)

(Female Queen Looking Relaxed With Two Kits Nursing Below Her.)

(Female Owl In Flight, Really Random But I Do This One Alot.)
(Two Cats Lying Down, Female Licking Males Head, Or The Other Way Around.)
(Two Cats Head-Butting [Nuzzling] EachOther Lovingly With A Smile On There Faces)

(Muscular, Well-Built Male Or Female, Works Best For Male, Standing Up And Looking Down At You.)

(Male Or Female Apprentice, Kit, Warrior With Paws On Ground, Bouncing Off A Rock.)

(Male Or Female Apprentice, Kit, Or Warrior Pawing At Something Curiously, The colors I did in this one is very unrealistic, it was just for fun.)

The LineArts Will Take Me Maybe 1 Hour To Three Days To Make, Because I Might Be Busy At Times..
(Evil Warrior LineArt, Grumpy and grouchy looking male or female evil or rogue cat.)